Need help? Contact me directly:
Craig@freedomhypnosisnyc.com
100% No-Risk Money Back Guarantee!
You are fully protected by our 100% Money Back Guarantee. If you don't like our products over the next 1 year, then we will gladly refund your money. No questions asked!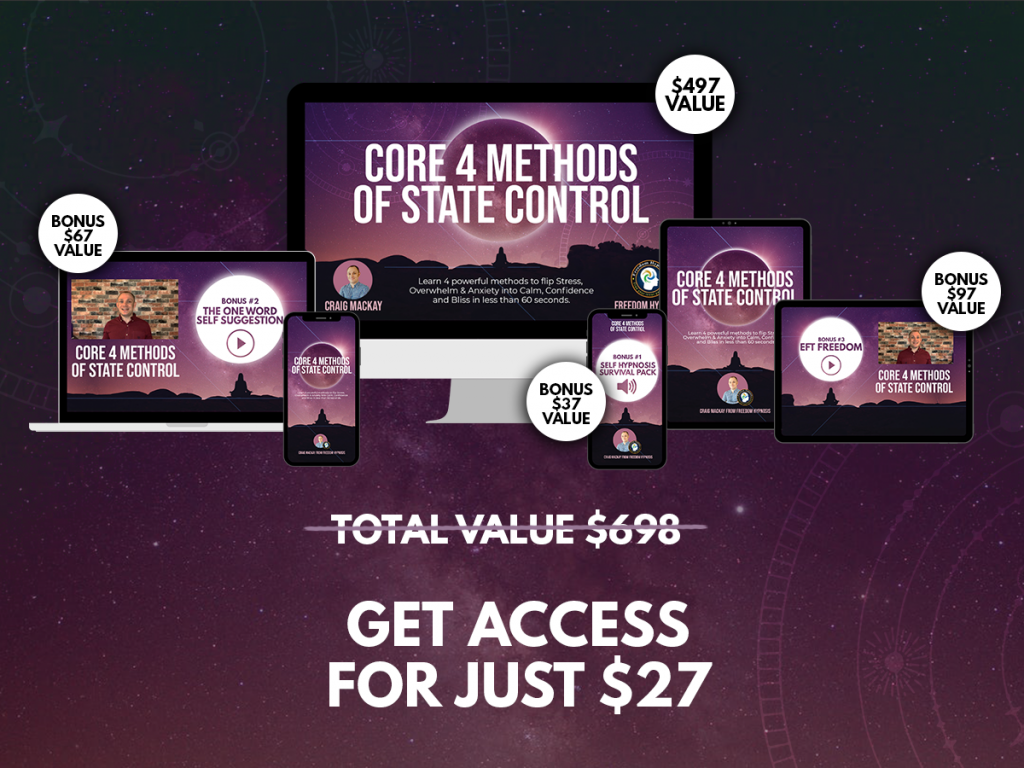 Here's Everything You're Getting Today For Your $27 Investment:
✓ Instant Access to The Core 4 Methods of State Control Workshop (Valued at $497):        Learn the core 4 methods I teach my VIP clients to help them flip stress, overwhelm &              anxiety into calm, confidence and bliss, in less than 60 seconds.
✓ Free Bonus #1: The One Word Self Suggestion (Valued at $67):
   Follow this expanded bonus lesson to learn how to quickly take control of your emotional         state using just one simple word.
✓ Free Bonus #2: Self Hypnosis Survival Pack (Valued at $37):
   Get instant access to 6 guided Self Hypnosis audio tracks that are designed for fast                 implementation to quickly regain control of your emotional state.
✓ Free Bonus #3: EFT Freedom (Valued at $97):
   One of my FAVORITE methods to shift emotional states is EFT/tapping. After testing on           hundreds of patients, I've FINALLY developed a series of unique yet powerful tapping             exercises to help with everything from stress relief to enhanced focus inside EFT Freedom.
✓ Backed By a No Questions Asked ONE YEAR Money Back Guarantee:
   I'm so confident that you're going to love the Core 4 Methods that if you try it out and  find       that you're not feeling more calm, energized, happy and excited making leaps and bounds       towards your goals…I will promptly refund your money up to a full year later. I'll even pay         for the additional payment processing fees.